Our customers tell us they LOVE shopping using Harvest Cart, our shop online service. But the one thing that would make it even better is home delivery.  
In doing the research we realized the only way we could ensure that the Harvest Cart orders would be delivered with a standard that our customers expect, was to have our own team manage the order and delivery process.  
So our team has been hard at work implementing the necessary software, maps, training staff, and drivers so we can deliver Healthy Groceries, and Healthy Vitamins, from all three stores, right to your door.*   
We are now offering Healthy Delivered from Cascade and Hudsonville Locations.
That's right, home delivery! We want to bring our excellent customer service all the way to your doorstep!
Delivery Area: 
We offer delivery roughly 10-15 miles from our Cascade and Hudsonville locations. 
If you are West of US 131 - please select Hudsovnille as your home store,  or if you are East of US 131 please select Cascade Harvest Health Foods as your home store.
When you are checking out, choose the delivery option. From there you will be required to verify your address. Once your address is verified, it will tell you whether or not you are in the delivery range. Click on the map for a larger image. 
Please reach out to us if you have any questions, during your order process. 
| | | |
| --- | --- | --- |
|   | | |
|   | Hudsonville Delivery Zone | Cascade Delivery Zone |
What is the fee for delivery?
There is a $9.99 fee for our delivery service. 
Is there a minimum for delivery?
There is no minimum for delivery!
How will you be in contact with me?
We will be in contact with you through text messaging or phone calls if necessary. We will give you updates about your order status, and we give you an estimated time of arrival when the driver is headed out for delivery.
How do I know what car you will be driving?
All of our delivery vehicles will have our Harvest Health Foods logo on the front and sides! They are hard to miss!
Can I order alcohol for delivery?
Yes! We can deliver alcohol. There must be an individual over the age of 21 to present to receive any delivery containing alcohol. We will check a valid ID for any orders containing alcohol.
I am just outside the delivery radius, what can I do?
Feel free to contact the store location closest to you. We would love to help you out!
Cascade - (616) 975-7555
Hudsonville - (616) 896-6630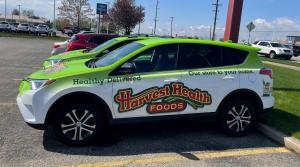 Our delivery vehicles will have our logo on the front and sides,
they are pretty snazzy and will be hard to miss!
If you have any questions, please don't hesitate to reach out to us Info@harvesthealthfoods.com  . 
Try Harvest Cart with Home Delivery Today!