Exciting News Harvest Health Foods Launches Harvest Rewards***  
Harvest Rewards is our loyalty program for Harvest Health Foods Customers.    
Personalized, exclusive offers are sent right to your email. 

Hassle-free digital coupons on your favorite brands. 
Rewards on your birthday. 

First look at new products. 

Community support days, opportunities to support local charities. 

Electronic Receipts, save paper,r and get rewarded. 

Electronic Punch Cards, special savings on multiple purchases. 
---
No Card Required: You just need to have an active Harvest Cart Customer Account and have opted in for marketing. That is, it!  
Getting Rewarded: Each time you check out, enter your phone number attached to your Harvest Cart Account, to earn and redeem Harvest Rewards  
Redeeming Rewards:   Rewards will be sent to you by email and will be automatically attached to your account.  So, keep an eye out for exclusive offers in your email.  Rewards will have expiration dates. 
That is just the start of the benefits. We will continue to grow Harvest Rewards as we see what our customers like best. 
Sign Up For Harvest Rewards:                                                
Create A Harvest Cart Account:   Select Create Account    << Click Here For A New Account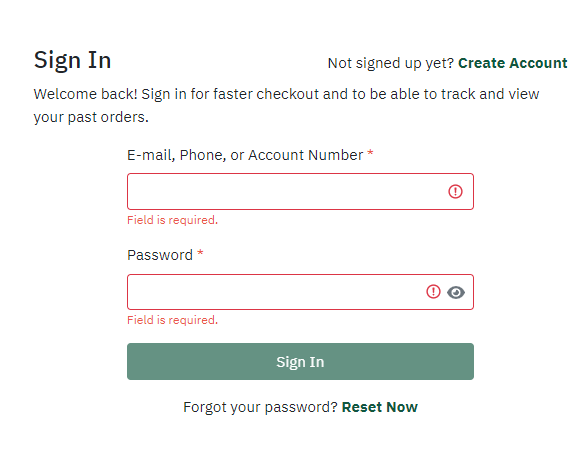 If you receive a notification that your email is already in our system, use the following instructions.   
Please select the Set Password button and follow the instructions, otherwise fill in the fields shown below.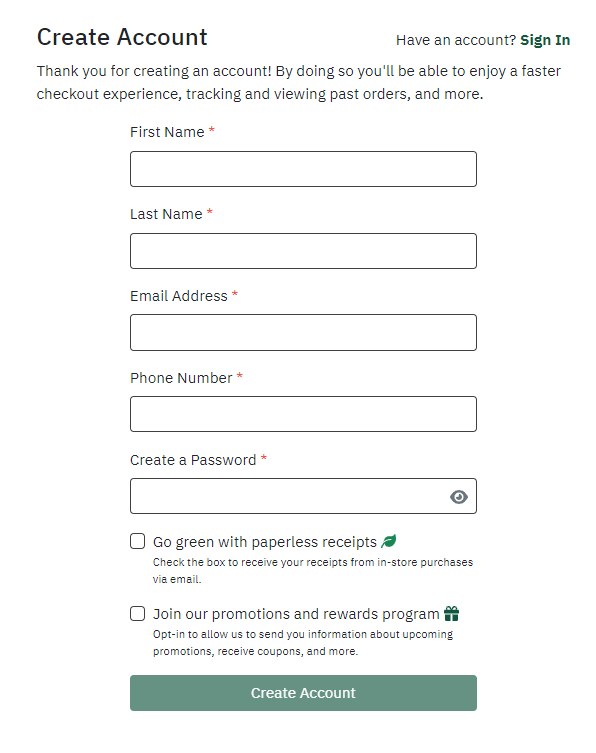 Select - Go Green with Paperless receipts.  To have your receipt sent to your email and save on printing paper receipts.
Select - Join our promotions and rewards program. To receive your rewards and coupons with Harvest Rewards.
Click - Create Account 
---
Already A Harvest Cart Online Shopping Customer?  
If you are already a Harvest Cart Customer and want to join the rewards program, sign in to your Harvest Cart account, go to Account Settings, and select send coupons and exclusive offers to this email.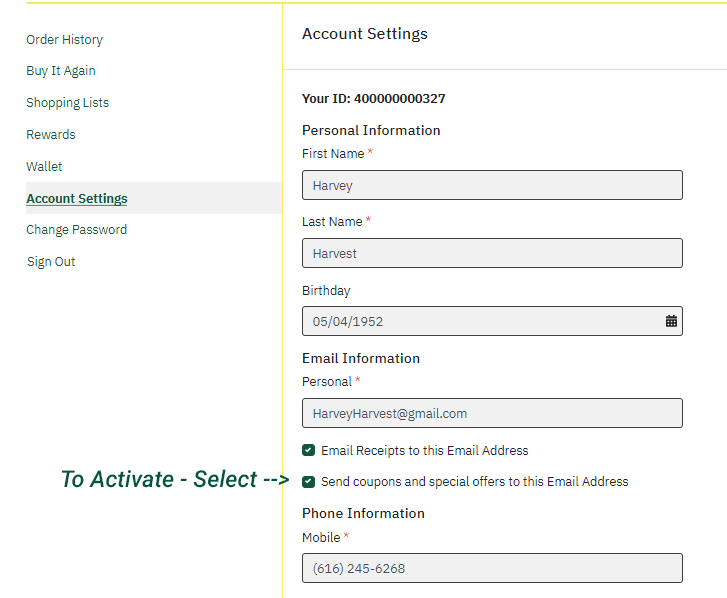 If you have questions, please contact Rewards@HarvestHealthFoods.com and we will help you set up your account.  Or the next time you stop in a Harvest Health Foods location, please ask our staff members about Harvest Rewards.
** Harvest Rewards are redeemed as coupons toward a purchase and may not be exchanged for cash. Rewards have expiration dates and must be redeemed within the dates stated. The reward program is subject to change at any time.