In September our thoughts turn to crisp air, falling leaves, and harvesting grapes.  We are welcoming Shady Lane Cellars to Harvest Health Foods as our featured winery. 
Shady Lane Cellars boasts 100% Michigan Made Wines with Michigan grapes what makes them stand out to Harvest Health Foods is that they have a commitment to the health of our environment.  
Meet Kasey The Wine Maker:  All about Kasey Wierzba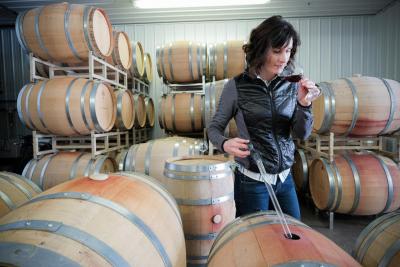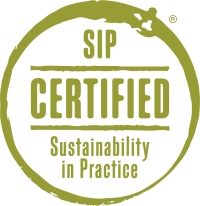 Learn more about SIP certification in this video:   People, Planet and Prosperity 
Read the Press Release about SIP Certification.
In September - Enjoy 15% off all Shady Lane Offerings.  We will offer samplings at our Hudsovnille and Cascade stores, stay tuned for dates and times.
      

Our Sparkling Riesling is an original wine from the early portfolio. The bright aromas and flavors contest its popularity that has prevailed as a favorite for over 15 years. The fruit is hand-harvested the first week of October with respect to balance and acidity. The primary fermentation is focused on capturing expressive aromatics and flavors thatRiesling brings so well. The second fermentation is doneCharmat method, respecting the fruit while carrying toasty brioche notes on creamy bubbles. 

Residual Sugar 2.3% | pH 3.3| TA 0.83% | Alc 11.5%

Semi-Dry Riesling - Our careful hands-on farming, along with sandy loam soil bring expression to a higher level in our Semi-Dry Riesling. We also split our harvest into several different fermentation batches that are fermented cool and slow. After aging on fine lees for seven months when begin to blend and bottle, creating a wine with notes of pineapple, white peach, and ginger.  Residual Sugar 2% | pH 3.2 | TA 0.83% | Alc 10.8%
The warmth of sunshine conveyed in this wine comes from the hillside of our HennessyVineyard. The south-facing slope receives all-day sun, enhancing the chamomile and green melon aromas and flavors of this alsatian-styled PinotGris. The round acidity lends itself to a sweet almond finish.  Residual Sugar .5 | pH 3.4| TA 0.73% | Alc 11.8%
During the rush of the 2016 harvest, we took a deep breath and brought in the Pinot Noir. The grapes were hand-harvested on October 28th, destemmed, and cold-soaked for three days. The fruit was then fermented with several yeast in small open-top containers. Secondary fermentation and aging took place in 40% new French oak and 60% neutral French oak. We were pleased to let this wine age in oak for 16 months, which is seen in the lush and soft mouthfeel.  Our Pinot Noir delivers flavors and aromas of black cherry, raspberry, pomegranate, cocoa, cola, black tea, orange peel, brown baking spice, and a hint of smokiness. Pairs beautifully with robust cheeses and charcuterie, grilled salmon with red wine sauce, and beef braised with mushrooms.
43% Cabernet Franc | 43%Blaufrankisch | 14% Merlot. These varieties complement each other seamlessly creating a rich, expressive red that has acidity and structure; a fantastic food pairing wine. The base for this blend comes from a field blend of Cabernet Franc and Blaufrankischat our Estate vineyard. These grapes were fermented in small lots, utilizing six different yeast strains.
Franc 'n' Franc is aged 21 months in French oak before the final blend is made, shaping a wine that
tells a story of quality and craft.  Residual Sugar 0% | pH 3.6 | Alc 11.8%